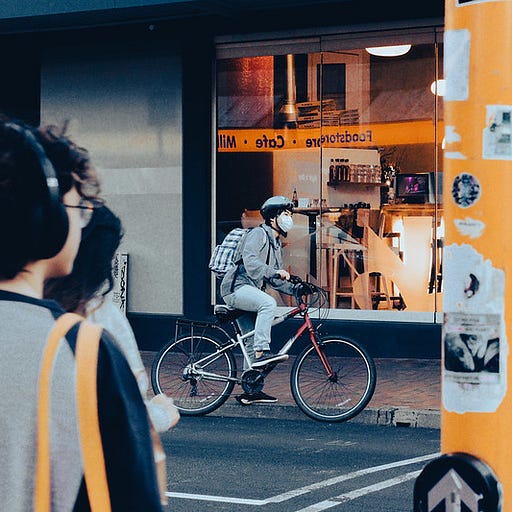 Aug 22, 2021 • 20M
Time to eliminate elimination?
Hipkins suggests delta makes elimination of covid impossible as a longer-term strategy; Morrison formally ends Australia's elimination strategy; Wilson floats overseas flight pause; Gull-Z merger on
Bernard Hickey and friends explore the political economy together.
TLDR & TLDL: In this morning's Dawn Chorus, I take a closer look at suggestions from Chris Hipkins and others close to the Government in the last day or so that New Zealand may not be able to hold on to its elimination strategy in the longer run, and maybe not for much longer.
That will be a tough call to make for a population now so deeply invested in holding on to elimination, even as it becomes clearer that only very hard, fast, wide and frequent level four lockdowns have any chance of eliminating the delta variant, which becomes infectious within a day of latching on to someone.
(Since I published this I've moved behind a paywall. To support this sort of analysis and accountability journalism, subscribe here for this special offer open until Oct 12)
Australia made that formal call to end elimination yesterday, effectively admitting defeat in New South Wales, where more than a thousand cases a day are expected later this week. This op-ed from PM Scott Morrison was published in News Corp papers yesterday. It effectively confirms the facts on the ground in Sydney, where Premier Gladys Berejiklian admitted elimination defeat last week. Here's how Morrison framed the decision. The bolding is mine.
"Our hospital and public health systems are prepared, they have held up to the challenge and continue to do so. And where they have to be reinforced, we know how to do that.
"Our ICUs have the know-how, we have vaccines and the new drugs like sotrovimab that has been approved by the TGA for use that can better treat those who are infected. This all means we can battle Delta and seriously reduce how much harm it does to our health, our way of life and our economy.
"So while right now our national strategy is necessarily about suppressing the virus and vaccinating as many people as possible, a one-eyed focus on just case numbers overlooks the fact that less people are getting seriously ill, let alone dying.

"Shifting our focus from just case numbers, to actually looking at how many people are becoming seriously ill and requiring hospitalisation will be increasingly what matters. After all, this is how we manage all other infectious diseases.

"Just as we've seen overseas in places like the UK, even when their case numbers tick up, their hospitalisations and deaths are not increasing at the same rate and remaining flatter and at rates like you see with the flu." Australian PM Scott Morrison
So can NZ trust its hospital system to cope too?
The question for us is when is it safe for us to do that. Currently, we don't have enough ICU beds to handle outbreaks of delta at our current vaccination rates, or even at 70% to 80%. Australia has set 70% and 80% as their thresholds to stop lockdowns, but it also has twice as many ICU beds per capita than New Zealand.
A study published in The Lancet last week found that even with a 90% vaccination rate, including for the most vulnerable groups, opening the borders and having 10 cases a day coming through the border for two years would produce an estimated 11,400 total hospitalisations and 1,030 total deaths.
Covid-19 Minister Chris Hipkins told TVNZ's Q+A yesterday that delta had changed the Government's thinking on how long elimination can last. He's still saying elimination is the right thing for now as we scramble to increase vaccination rates.
But reading between the lines, he is softening us up to eventually give up on it. That will be a tough task, given we have invested so much in it, even in the last week. I've included the fuller exchange with Jack Tame in the podcast above, but here's a flavour of his comments in text form for those more text-y people out there.
"We still want to try to drive Covid out as much as we can. That hasn't changed. The reality though is that a virus that can be infectious within 24 hours of someone getting it - that changes the game considerably.

"Delta does raise some big questions that we're going to have to grapple with, you know less than a 24-hour period for someone getting it and passing it on to others ... that's like nothing we've dealt with in this pandemic so far, and it does change everything.

"It does mean that all of our existing protections... start to look less adequate and less robust as a result of that we are looking very closely at what more we can do there, but yes it does raise some pretty big questions about what the long-term future of our plans are.

"At some point we will have to start to be more open in the future." Chris Hipkins on TVNZ's Q+A yesterday morning.
Then economist Rodney Jones, who advised the Skegg report and was very influential in the initial decision to lock down in late March last year, was reported as saying it will be difficult for Aotearoa-NZ to go back to the relative freedoms of the last 18 months. He said even our relatively tough MIQ system could not keep out delta.
"We're not going back to what we had for the last 18 months.. At what point do you say, 'You had a fantastic 18 months, but in some ways the future we face is not going to be as good as that'."

"We should have been at level 2. Once we had a certain number of Delta cases at MIQ that's quite a different mindset you have to have.

"Our only defence becomes vaccinations". Rodney Jones in the NZ Herald.
'This will get me into trouble'
Reserve Bank Governor Adrian Orr has also started preparing the ground for what comes after elimination. He told Stuff in an article published on Sunday that the bank was still likely to hike rates with delta.
"It is not clear what would deviate us from our main path of wanting to reduce stimulus at the moment. Even with Delta, that still remains the obvious path for us, subject to hearing otherwise
"I am going to use language that will probably get me in trouble, but this thing started as a 'pandemic' globally and it has morphed into an 'endemic' globally – meaning it is going to be around for a long time."

"The best way for us to be thinking about managing it is to assume it's endemic and there will always be precautions which will be some form of restrictions on the movement of people, and that there will be some short-term severe disruptions from time to time.

"That is pretty much where the United States and a lot of Europe are getting themselves to now. They (businesses) need the capacity to operate when things are open or shut and to meet demand under all conditions, which we have seen they are very capable of doing." RBNZ Governor Adrian Orr in Stuff
So if we can't stay locked down forever, when can we open up?
That begs the question: if we can't open up safely at the moment to keep elimination, how long before we can, and what do we do in the meantime?
Otago University epidemiologists Professor Nick Wilson, Dr Jennifer Summers, Dr Leah Grout and Professor Michael Baker, all of whom have advised the Govt at some stage, wrote in a blog on Friday that one option for an extra-hard lockdown would be an outright temporary suspension or significant reduction in international flights, in part to create extra space for infected locals in MIQ, again hinting at the fears about hospital system capacity.
They also proposed making the use of QR codes mandatory, the creation of a region-specific alert level system and the mandatory use of masks by all essential workers indoors. The Government announced the mandating of QR code use (in some circumstances) yesterday. The bolding below is mine.
"This action would free up spaces in MIQ facilities in case this is needed for identified infected cases from the current community outbreak in Auckland. This was the rationale for when Victoria in Australia suspended all incoming international travellers for four months in 2020 .

"Such a suspension (or minimisation) would also reduce the risk of another outbreak from a border failure event associated with additional infected cases coming into the country (eg, there have been 10 reported quarantine system failures associated with international travellers that NZ has previously had, not including the one associated with this current outbreak).

Having two separate but simultaneous outbreaks could impose extreme stress on the country's contact tracing system." Professor Nick Wilson, Dr Jennifer Summers, Dr Leah Grout and Professor Michael Baker
My view: We should of course vaccinate like the wind (or 'like snot' as we used to say at school) and get the rate as high as possible, and as fast as possible, while we're in lockdown. It seems to extraordinary to me our first drive-through vaccination centre had its first full day only yesterday. Hipkins announced yesterday 382,500 doses of the vaccine had just arrived, taking the total number on hand to 750,000. It seems anything we can do to blast them out within days rather than weeks, particularly to Maori and Pasifika communities in Auckland, should be done immediately.
We should all stop everything we're doing (or not doing) and get vaccinated. Extra focus should be on Maori and Pasifika communities in Auckland.
But then we have to work out what our priorities are, and whether our health system can handle outbreaks when we drop elimination (not if). We could, in theory, if we prioritised health over all else, try to lock down 'Fortress NZ' even harder with a suspension of international flights. That is impossible to do for more than a few weeks.
The key variables I'm watching are how many ICU beds we can stand up, especially for children, and what the vaccination rates are for Maori and Pasifika. Currently, both are too low to drop elimination. We only have one hospital with paediatric ICU beds. That's Starship in Auckland and it's usually at capacity in normal times.
We went into Covid with the second lowest number of ICU beds per capita in the OECD. Only Mexico was worse. And it hasn't improved in an effective sense since last year's lockdowns.
These background pieces from the NZ Herald's Derek Cheng and Nicholas Jones are very useful on the ICU bed numbers issue. They report a Ministry of Health paper from May last year found there were 334 ventilators and 358 ICU beds in place at that time. There are currently 284 fully staffed ICU beds across public hospitals and 629 ICU-capable ventilators, with 133 in the national reserve if required.
They and Q+A quoted the NZ chair of the Australia NZ Intensive Care Society, Craig Carr, as saying our effective ICU capacity had not increased, largely because ICU-trained staff numbers had not increased, and in some cases had fallen.
"We now have more equipment compared with 18 months ago, but we actually have very few extra staff, and in some instances, we've got fewer staff. Actual resourced bed capacity on a day-to-day basis, in terms of a bed with a nurse and a ventilator and all the monitors - that has not risen, to my knowledge, in the last 18 months

"You get to the point of what Italy had with lots of patients on ventilators, but they weren't being looked after by an ICU nurse or doctor. Clearly the patient's still got a chance at life, but it's not as good as if they had an ICU and doctor to engage in their day-to-day care." Craig Carr, the NZ chair of the Australia NZ Intensive Care Society.
Long story short: We must do an emergency vaccination of everyone as fast as we can in the coming weeks. We should consider suspending all flights into NZ. Then we have to be ready to open up to the world with limited level four lockdowns in particular regions to suppress numbers hitting hospitals. We have to do whatever we can to beef up ICUs, particularly for children.
My gut feel is this level four lockdown will not end until we get to 90% vaccination of over 15s, and then we have to take a very, very hard decision. If we then end the lockdown and open the borders, we would have to do it before we've vaccinated the under 12s. Delta is not sparing the kids. FYI below, there were 200 children aged nine and under who were diagnosed with Covid over the weekend in New South Wales (SMH).
The alternative is permanent or rolling lockdowns and very, very hard borders, possibly without any international flights, until well into 2022. Even with a tough MIQ, we can't keep delta out, and that means constant back and forth into hard lockdowns. I don't think that's legally, morally, economically or politically possible. The MIQ spot shortages are already causing immense human pain for those stuck overseas who are missing births, terminal illnesses, deaths, funerals and weddings. Read this month's North and South for a range of stories on that. It's worth subscribing for these alone.
The final word: We can't stay closed like we are now, and even more so, until mid-to-late 2022, which is where we're headed. The Government is right to soften us up for the end of elimination and we're all going to have to hold two ideas in our heads at the same time: lock down very hard right now and vaccinate everyone that moves ASAP, while at the same time getting ready to open the borders and take the risk that some of our children will get hospitalised with delta. We just have to make sure our ICUs are ready, and bigger.
And in the long run, we must never, ever again allow ourselves to run down our hospital system to the point where we have half the ICU beds per capita of other developed and rich (yes we are — our houses are worth $1.5t) countries. Thirty years of Public Finance Act-inspired sinking lids and politicians and voters opting for tax cuts (and not taxing wealth) over public health investment cannot happen again.
---
Scoops and news breaking this morning
In brief, Auckland is at maximum contact tracer capacity (RNZ), there was community spread at a university ball and a South Auckland Samoan Church last weekend (TVNZ), the source of the delta outbreak looks to be people walking past the Crowne Plaza (RNZ) and Ampol (which owns Gull) is set to launch a A$2.5b takeover bid for Z Energy (AFR).
---
Signs o' the times news
---
Useful longer reads
---
Charts of the day
---
Some fun things