Dec 5, 2022 • 13M
How to redevelop a golf course for housing properly
Publicly-owned golf courses in Auckland & Wellington can be redeveloped in ways that deliver both thousands of homes & open, green spaces and trees for all; I've seen it done in Melbourne
The latest daily snapshot of the news, detail, insight and analysis on geo-politics, the global economy, business, markets and the local political economy for citizens and decision-makers of Aotearoa-NZ.
TLDR: My article and podcast yesterday suggesting Auckland Council sell its 13 golf courses for housing redevelopment instead of selling its Auckland International Airport stake generated quite a response and discussion. I opened it up to all and promoted it on Twitter after requests from paying subscribers. I'm opening this one up from the start.
One common rebuttal was that turning golf courses into housing developments would only create "more slums" and rob the public and the city's biosphere of open, green spaces to "breathe, play and relax."
I'm sympathetic to those concerns, but have seen golf course redevelopments done well, including one Lynn and I stayed in last week in Melbourne. I detail below the fold how it was done and look at which publicly-owned golf courses in Wellington and Auckland would benefit first. I also suggest a model to do it without selling the land and without simply building more empty mansions.
---
Elsewhere in the news overnight and this morning in our political economy:
Good news = bad news - A US services sector survey was stronger than expected, sparking a sell-off in shares and bonds as investors and traders worried signs of stronger economic growth and inflation pressures might trigger higher interest rates next week when the US Federal Reserve makes its final rates decision for the year; Reuters
Governing alone - TVNZ's 1News published a fresh Kantar opinion poll overnight, which showed support for National up one percentage point to 38%, Labour down one to 33%, ACT up two to 11%, Green steady on 9% and NZ First up one to 4%. The poll of 1,011 eligible voters done online and via mobile phone from Nov 26-30 also found support for Jacinda Ardern as preferred PM fell one point to 29%, while Christopher Luxon rose two points to 23%. If replicated in Parliament, these support levels would allow National and ACT to govern alone, which I still think is the most likely scenario given what we know now; 1News
Independent inquiry? - PM Jacinda Ardern announced a Royal Commission into Aotearoa's covid response would be started in February next year and report back by June 26, 2024. The terms of reference specify it must consider the Goverment's fiscal and monetary policy responses, including the wage subsidies and money printing, although Ardern muddied the waters somewhat in comments last night that it would not be able to look inside specific Monetary Policy Committee decisions for independence reasons Newshub
Cheap money ends - Te Pūtea Matua's (The Reserve Bank) Funding for Lending Programme (FLP) of cut-price lending to banks at the Official Cash Rate finally ends today as scheduled, with banks having borrowed $19 billion of the $28 billion they could borrowed. The end of the scheme will help boost term deposit rates and may see banks pass on more of the higher wholesale 'swaps' rates seen in recent months and which the RBNZ said on Nov 23 it wanted to see the banks pass on more of those rises. NZ Herald
---
Here's how to redevelop a golf course for housing
My suggestion that Auckland Council sell its 13 golf courses for new housing developments triggered a lot of complaints about "more slums" and about the paving over of the green spaces that should be available for the public and be the "lungs of the city."
You can see a sample of the reactions to these two tweets I sent out.
Here's some of the pithiest responses:
You get the picture. Interestingly, Wayne Brown's key adviser Matthew Hooton, didn't think there was a housing shortage to solve any more.
So how could any move like this solve the problem of cutting down trees and building 'slums'?
Mirvac's development of Eastern Golf Course in Melbourne
Last week Lynn and I stayed at a friend's apartment built by Mirvac as part of a massive planned development on the former Eastern Golf Course about 13 kms from Melbourne's CBD. They kept all the trees and built a wide range of up-and-down-market townhouses with apartment blocks on the margins, with large green spaces/ walking trails chock full of public playgrounds and adjacent barbecue areas. It's a real living space and a lovely place to walk around.
About 30% of the course was retained as open space for the public. We went for walks and took a few pictures…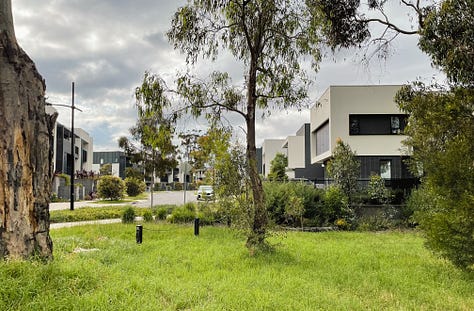 Mirvac paid about A$100m for the 47ha site in 2011, buying from the privately-owned Eastern Golf Club (which relocated to the edge of the city). Mirvac plans to sell 913 homes for A$886m with prices ranging from A$415,000 to A$2.75 million each. It has already built most of them.
Here's a video showing more detail and drone shots.
The scale requires big balance sheets
One reason Mirvac, a listed company, could take on something on this scale without having to carve the course up into lots to sell on is that it has a big balance sheet, thanks to Australians compulsory pension scheme. These schemes now have A$3.3 trillion because they are forced and include an effective subsidy. They also have a more level playing field against the ever-more savings being pumped into Aotearoa's owner-occupied residential property with augmented rentals leveraging off the owner's own home. Australia has a capital gains tax.
That means savers are happy to put more money into shares and companies like Mirvac don't have to compete against those with a tax advantage.
So which golf courses should be redeveloped?
As many respondents to the article pointed out, simply selling all 13 courses would not be easy or fast, given some are remote and some are subject to cast-iron leases blocking easy sale.
The most obvious candidates in Auckland and Wellington would be the courses at
Takapuna, with both the Waitemata and Takapuna courses and a driving range;

Waitakere, which is in a high growth area;

Chamberlain Park, which is next to the motorway and on the way to the Airport; and,

the Miramar and Berhampore courses in Wellington.
One obvious candidate that is much harder is the prime Remuera course in Auckland, which was locked down in 2016 after the course negotiated a lease with the local board out to 2091.
Here's the Newshub article documenting how it was done:
"They extended their lease with their local board out to 2091 - that constrains our options, I don't think that was an appropriate thing to do," Mayor Phil Goff told Newshub Nation.

Desley Simpson was chair of the Orakei Local Board in 2016, when Remuera's lease was renewed.

"It was the tool I had to give them the longest possible lease so that it couldn't possibly be up for review and then potentially be turned into housing, which is something I am absolutely,  vehemently opposed to," she told Newshub Nation.
We've just had a debate about entrenchment of public assets at the national level. Golfers are well ahead of the curve.
Ways to keep them open and build affordable housing
I suggested selling the land outright, but other options include selling 99-year leases to build-to-rent developers, which, by the way, Mirvac has done plenty of in Australia.
There are plenty of ways to skin cats.
Here's some other useful replies
Substacks of the day
Have a great day
cheers
Bernard