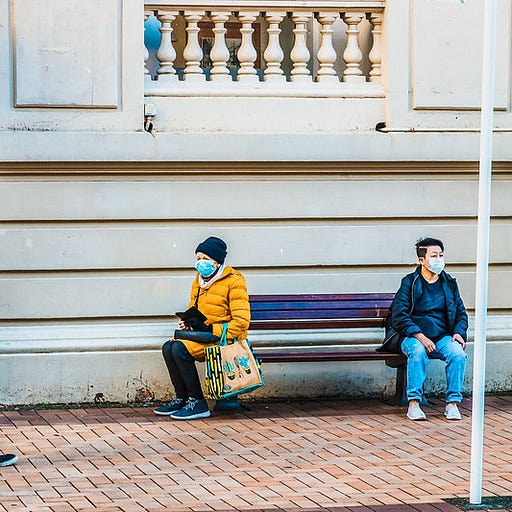 Aug 25, 2021 • 4M
Dawn Chorus: Crucial delta moment
Cases must fall in next day or two if NZ is to eliminate delta; Govt set to repurpose MIQ spots to quarantine local cases; New possible cases of saline instead of vaccine; Collins vs Bishop clash
Bernard Hickey and friends explore the political economy together.
TLDR: Today and tomorrow will be the two biggest days of this delta outbreak, both here and in Australia. Case numbers must start falling today and tomorrow if we are to know the level four lockdowns stopped the chain of transmission last Wednesday morning.
Meanwhile, the pressure is ramping up on both MIQ and the Ministry of Health. Covid-19 Minister Chris Hipkins revealed in a select committee hearing yesterday the Government was looking to repurpose existing MIQ places to quarantine local cases. (Newshub)
"In the event that that filled up and we needed to repurpose another one of our MIQ facilities for quarantine, then of course we could look at that. We have to balance that up against the pressure of travellers coming in and our need to accommodate that safely." Chris Hipkins.
The Ministry of Health will also face more questions this morning about people possibly being vaccinated with saline, instead of vaccine. Yesterday RNZ's Charlie Dreaver revealed five people out of 732 may have been injected with harmless saline solution instead of a Covid-19 shot at Auckland's Highbrook Vaccination Centre on 12 July. That's nearly six weeks ago. Now this morning Dreaver is reporting the Ministry of Health confirmed there had been another instance where people may have been given the wrong dose of the Pfizer vaccine.
The DHBs are also struggling with poor systems. Nick Jones reports via NZ Herald-$$$ this morning that Auckland and Waikato DHBs still don't have an easy way to work out who has been vaccinated or not.
'When a community case was detected, DHBs at the centre of the outbreak couldn't easily work out which staff were vaccinated. That's despite staff being eligible for the Pfizer vaccine since March.' NZ Herald
Derek Cheng also details in the NZ Herald-$$$ how far behind the contact tracers are. He questions whether the Ministry was ready for the speed and huge contact volumes because of delta.
'Only yesterday did the ministry first say how many contacts were yet to be reached. Of 22,081 individual contacts, 7800 were yet to be contacted. Of the 488 high-risk close contacts, at least 61 were still to be reached.' NZ Herald
Elsewhere, The National Caucus is deeply divided after its awful annual conference, Thomas Coughlan reports at NZ Herald-$$$ this morning.
'One source told the Herald that Collins "completely lost it" at Bishop. Another source described her tirade as "f***ing ballistic".' Thomas Coughlan
Overseas, Australia faces its worst day of the epidemic. Last night two hospitals in Sydney's western suburbs at Westmead and Blacktown ran out of space for more Covid patients. Case numbers there are expected to rise over 1,000 today.
Meanwhile, bizarrely, New South Wales Premier Gladys Berejiklian is expected to push ahead today with plans to open up…
'The Premier said she still planned to announce a level of freedom to vaccinated people by the end of the week, with a meeting of crisis cabinet to determine the plans on Wednesday afternoon.' SMH
In the global economy, US factory orders figures overnight were weaker than expected (Reuters), Nomura's analysts warned a property slowdown in China looks more permanent and worrying than it usually does, describing it as a 'Volcker moment' (Bloomberg)
---
Signs o' the times news
---
Chart of the day
Useful longer reads and listens
---
Some fun things
Ka kite ano
Bernard