Nov 27, 2022 • 8M
Dawn Chorus: Covid protests spread in China
President Xi's 'dynamic zero' covid policies under extreme stress as protests and riots spread in locked-down cities generating 65% of China's GDP; China loosens monetary policy too
The latest daily snapshot of the news, detail, insight and analysis on geo-politics, the global economy, business, markets and the local political economy for citizens and decision-makers of Aotearoa-NZ.
TLDR: The biggest story in the world and for us today is the disorderly unravelling of China's 'dynamic zero' covid policies through a rolling series of protests and riots against various types of lockdowns and travel restrictions in cities responsible for 65% of China's GDP.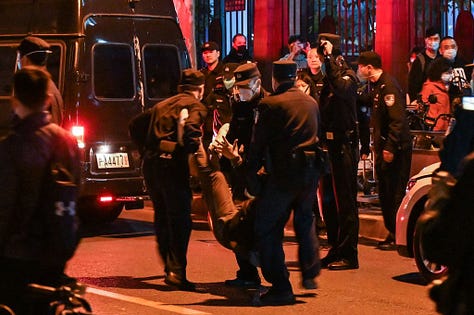 Foreign observers described the protests as some the biggest acts of civil disobedience in China since the Tiananmen Square killings 33 years ago. The rash of protests followed the spreading of social media posts documenting the deaths of 10 people in an apartment fire in the locked down region of Xinjiang. Apartment dwellers are often locked in their buildings during lockdowns.
Videos of vigils and clashes with police throughout China's biggest cities spread over the weekend, despite attempts to censor them. Student groups were the most prominent. Youth unemployment in China is now over 20% and economic growth has ground to a halt in our largest trading partner as consumers close their e-wallets and the Government is in full covid and social crisis mode.
I'm somewhat surprised at the lack of prominent coverage yet on media in Aotearoa, so here's a selection of the coverage from various sources I subscribe to in order to give a sense of the depth of the crisis:
Listen to this episode with a 7-day free trial
Subscribe to The Kākā by Bernard Hickey to listen to this episode and get 7 days of free access to the full post archives.