TL;DR: The five things that mattered in Aotearoa's political economy that we wrote and spoke about via The Kākā and elsewhere for paying subscribers in the last week included:
---
What we talked about on 'The Hoon' on Friday night
In this week's podcast above of the weekly 'Hoon' webinar for paying subscribers at 5pm on Friday night:
5.00 pm - 5.05 pm -

and

Peter Bale

opened the show with a discussion about Te Reo week and

Elon Musk.

5.05 pm - 5.20 pm - Bernard, Peter and

talked about Labour's deep retrofit trial policy and decision not to ban new gas connections, along with the latest UN stocktake on climate emissions, and a paper showing the world breaching its planetary boundaries.

5.20 pm - 5.40 pm - Bernard and Peter and

talked about Ukraine's latest strikes on Russia,

Vladimir Putin

's meeting with

Kim Jong Un

and what the surprise disappearance of

China's Defence Minister Li Shangfu

says about unity around

China's President Xi Jinping

.

5.40 - 6.00 pm - Bernard and Peter spoke with Interest.co.nz's Rebecca Stevenson about her scoop this week that banks are paying hush money to not talk about widespread scams and fraud being perpetuated on their customers, sometimes by fraudsters with bank accounts here.
The Hoon's podcast version above was produced by Simon Josey.
This is a sampler for all free subscribers. Thanks to the support of paying subscribers here, I'm able to spread the work from my public interest journalism here about housing affordability, climate change and poverty reduction around in other public venues. I'd love you to join the community supporting and contributing to this work with your ideas, feedback and comments.
---
Charts of the week
NZ doesn't have a debt problem
House prices set to jump 20% if National-ACT win
National-ACT set to govern alone, two TV polls show
Christopher catches up to Chris as preferred PM
Berkeley Earth's estimates of the causes of temperature change
Climate video of the week
Medicane Daniel destroys Derna in Libya
Other places we appeared this week
I interviewed Kiwibank Chief Economist Jarrod Kerr on Wednesday for When The Facts Change via The Spinoff. We took a lap around the macro-economy in the immediate aftermath of the PREFU. He sees signs of green shoots emerging in many regions.
We also produce this 5 in 5 with ANZ daily podcast and Substack for ANZ Institutional in Australia, which you can sign up to via Spotify and Apple and Youtube for free.
Some fun things
Cartoons of the week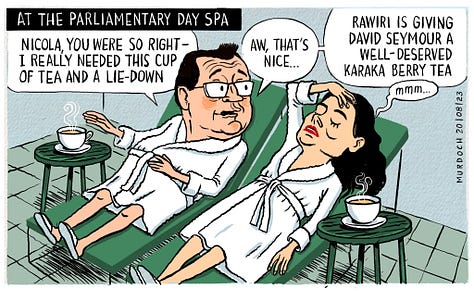 Ka kite
Bernard
1
Here is a full copy of the independent analysis of National's foreign buyer's tax plan.
2
The UN stocktake on Paris Agreement progress.
3
Full 1News/Verian poll result published on Wednesday.