TL;DR: The five things that mattered in Aotearoa's political economy that we wrote and spoke about via The Kākā for paying subscribers in the last week included:
I interviewed Labour Leader and PM Chris Hipkins about Labour's pitch for re-election for When The Facts Change, which was published yesterday here in video form.

National Leader Christopher Luxon and Hipkins laid out their visions for economic and business growth this week, but failed again to address the elephants in the room of our political economy. I wrote about that in Thursday's email.

This elephants include very fast population growth without enough infrastructure investment, our tax system's overwhelming incentives for savers to invest in residential land rather than businesses and the unaccounted-for and massive climate, health and economic liabilities lurking in the Crown's financial future without changes in housing, tax and climate policy.

We published our first edition of The Kaka Project on universal dental care.

Deep doubts emerged over National's projected $2.96 billion of revenues from its foreign buyers' tax, given tax lawyers and economists doubt the legal status of the tax and a required surge in foreign buying to collect that amount, which funds a fifth of National's tax cuts. I wrote about that in Tuesday's email.
---
What we talked about on 'The Hoon' on Friday night
In this week's podcast above of the weekly 'Hoon' webinar for paying subscribers at 5pm on Friday night:
5.00 pm - 5.05 pm -

and

Peter Bale

opened the show with a discussion about fresh polls showing Labour falling further behind National.

5.05 pm - 5.20 pm - Bernard, Peter and

talked about National's plan to dump the 'Ute Tax' and fresh research showing the need for a massive decoupling between GDP growth and climate emissions to stop the planet warming past dangerous levels.

5.20 pm - 5.40 pm - Bernard and Peter and

talked about the United States' ongoing attempts to isolate China, which are facing increasing headwinds from global companies now dependent on China, including Apple.

5.40 - 6.00 pm - Bernard, Peter, Robert and columnist for The Post, Josie Pagani, talked about the paucity of debate about ideas and big policies in the election debate so far.
The Hoon's podcast version above was produced by Simon Josey.
This is a sampler for all free subscribers. Thanks to the support of paying subscribers here, I'm able to spread the work from my public interest journalism here about housing affordability, climate change and poverty reduction around in other public venues. I'd love you to join the community supporting and contributing to this work with your ideas, feedback and comments.
---
Charts of the week
NZ also champion of the world in the wrong thing
And this thing too
Climate pic of the day
700mm fell on Pelion in a day (same as London's rain for a year)
Other places we appeared this week
We also produce this daily podcast and Substack, which you can sign up to via Spotify and Apple and Youtube for free.
Some fun things
Cartoons of the week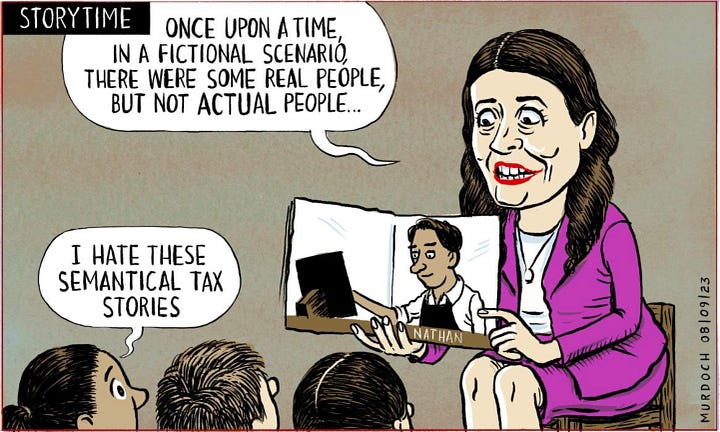 Ka kite
Bernard